Dear friends and fellow members,
I hope you this email finds you all well. With Spring just around the corner, the days gradually becoming longer and warmer, I hope you are looking forward to the new season which is not too far away now.
As you know the club house has undergone a substantial facelift, the green has had new gutters and the petanque court is in the process of being relocated. There has been a great deal of time and effort put in by members in the form of cleaning, decorating, working on the green, along with many other tasks. I sincerely thank everyone who has given up their time to do this. Work is ongoing and if you feel you can contribute in any way please let Beryl, Jennie, Maz or myself know. Once completed we will have a fabulous facility of which we can all be proud.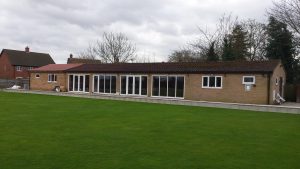 Social calendar
Please find attached the calendar of events for the forthcoming year. The first event is on Friday 31st March starting at 7pm with the EGM for the election of the Club's new Chairperson, followed by collection of membership subscriptions from 7.30pm and the 2016 trophy presentation at about 8.30pm. A free buffet will be provided following the presentation of the trophies.
This event is followed by our Quiz Night on 7th April, details of which are on the website.
Leaflet Drop
Recruitment is a major priority for the club this year and David Samme, Keith Blaxill along with David's son in law Ally (thank you guys) have been working on promotional leaflets. The aim is to distribute these leaflets during mid to late April to around 3000 households in Great Barford and the surrounding villages. This is quite a task and we need as many volunteers as possible to do this. So if you can help, even if it's only to deliver a few, please email David on dsamme@hotmail.com or text him on 07981 057937 before the end of March. David can then work out allocations, who, where, when etc for the actual leaflet drop.
Open evenings
As you know we have bowls 'roll ups' on a Friday evening which are open to anyone. This year we are promoting the club a little differently by advertising these as 'Open Evenings' and this will be included on the promotional leaflets. The first open evening is 5th May and obviously the aim is to attract more people to come along and see what the club has to offer. If some members could be around to make visitors feel welcome and to offer basic coaching that would be great. If you are able do this for the 5th, 12th and 19th May please use the match sign up page on the website to let us know. Hopefully our leaflet drop will promote a great interest in the first few weeks. We can but try.
Working Party – Sat 1st April
Bill Quince, our groundsman, needs help with the preparation of the green. So if you haven't indulged too much at the presentation evening the night before and would like to assist please come along from 9.30am. I'm sure tea, coffee and bacon rolls will be provided too.
Bowls Coaching
There may be an opportunity for members to take a Level 1 bowls coaching course. The course would be paid for by the club and held at either Kempston's or Bedford's artificial rink in April before the season starts. There would be three sessions, 2 as a group and a final one to one assessment. The person organising the course would like 5 or 6 people and is happy to run the course just for Great Barford club. If you are interested please let Beryl know as soon as possible. Depending on response Beryl will then contact the organiser for further details.