Home
Play bowls in Bedfordshire? – visit Great Barford Bowls Club: during season (May to end of August) free roll up sessions on Friday evenings from 6pm and Tuesday Mornings 10am – newcomers welcome, excellent green, friendly atmosphere,  league & friendly fixtures, petanque, yoga and pilates.
Click here to find out where we are.
******************************
******************************
Chairman's End of Season Message:
Hello everyone,
As autumn approaches I hope you have enjoyed the summer and playing in your bowls and petanque matches.The season goes oh so quickly. I just wanted to remind you of the events taking place over the next few months.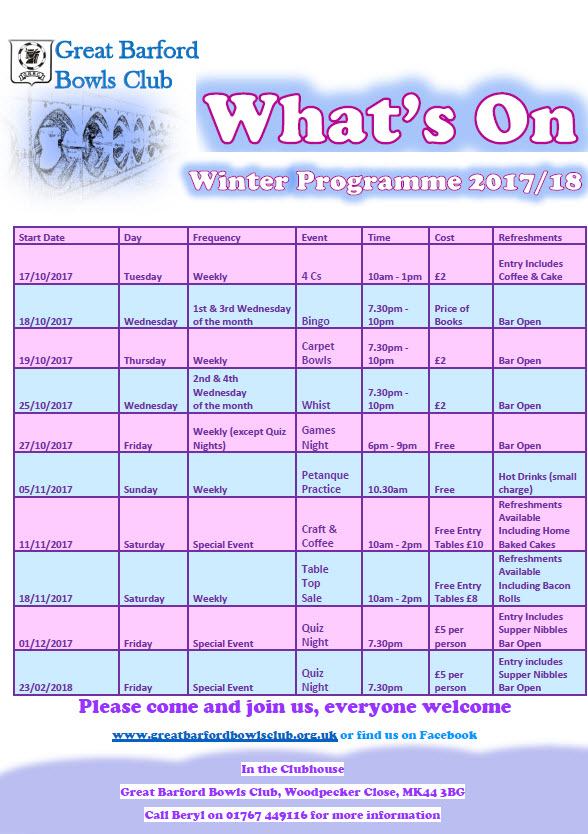 Sat 11th Nov – Autumn Craft & Coffee morning
Fri 17th Nov – Annual General Meeting – more details nearer the time but if you would like to be more involved in the club and join any of the committees please put your name forward when the nomination sheets are posted in the clubhouse
******

***************

*********
****

Over 60s Match ReportsPetanque League reportsEBL A Team ReportsEBL B Team Reports
Ladies League ReportsFriendly Non-League Fixtures