22nd August
Last games in the East Beds Bowls League for both Great Barford Bowls Club A and B teams resulted in victories. The A team played at home against Henlow C and won 48-21. Ray's triple won 23-11 while Malcolm's triple won by 25-10.
The B team visited St Andrews B team and had a clear victory 56-21. Bob's triple won 28-12 and Stuart's triple had a 28-11 win. Just missed out on another promotions.
The final game of the season was an emphatic 56-21 win away at St Andrews, our chaps registering the highest points scored since entering the EBL 5 years ago. What a great way to end the season!!
Tackling the infamous St Andrews slope is a challenge in itself but the B team coped admirably, adjusting their deliveries very effectively at every change of ends.
On rink 2 Stuart, Joe and Keith took the lead from the start and just when it seemed that our opponents were on the verge of coming back into the game our boys scraped 3 successive one point wins to keep them at bay before executing the coup de gras with a 5-0 point win on the final end.
On rink 1 Bob, Steve and Kev were rarely troubled. Having taken a decisive early lead, 12-0, by end 5 they maintained sure and steady progress, occasionally treating the away supporters to 4-0 wins they ended comfortable winners, 28-9.
Final Division 4 League table:
16th August
Despite losing at Henlow a top half position is possible for Great Barford B team.
Latest League table for Division 4 of the East Beds Bowls League:
8th August
An away fixture against top of the table Ampthill B was always going to be a tough nut to crack and so the game proved.
Both our teams were out of the starting blocks first and took healthy leads. However, Ampthill then got into a steady rhythm and gradually clawed their way back so that by end 14 it was still all to play for.
Stuart, Joe and Keith suddenly lost a 5 point end but Stuart confidently predicted that all would be immediately set right. His team duly obliged!!..winning 23-13, more than sufficient to outweigh the loss of 11-14 sustained by Bob, Steve and Kev.
A very good win in what is proving to be a very tight and competitive division.
2nd August
Week 11 League Table:
28th July
Week 10 League Table:
25th July
It was inevitable that following the previous evening's spectacular result against the GB A Team it would be back down to earth with a bump, for Great Barford B team, in their final home game of the season against Biggleswade C.
And it was. A real scrap against some very talented and consistent players.
Level-pegging throughout much of the game, and just a thin margin behind with only the final few ends to play, the B Team clawed their way back to win 32-31!!
This was a game we really did need to win in order to consolidate our position in Division 4 and before we embark on our next challenge – the final 3 games of the season, and all of them away from home!
4th July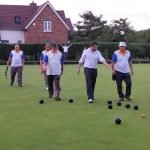 It was fitting, that after a prolonged period of anticipation in looking forward to the match of the season (B team v A team), a comprehensive and convincing win (42-27!!!!!) over our nearest, and dearest, rivals was the just reward.
Right from the start the B Teams on both rinks seized the initiative and dominated play driving forward with confidence and determination.
Stuart, John and Keith surged mercilessly ahead and were leading 11-0 by end 6. They continued in this vein quite remorselessly allowing their opponents only the occasional use of the jack. A win of 23-9 was no more than fair.
Meanwhile, against a very strong trio Bob, Steve and Kev held their nerves and did not allow a 5 point loss at the second end to deflect their intention to win. What may be lacking in finesse is made up for by team-work and true grit, our boys securing a tight, but deserved 19-18 win.
Again the team was well supported and thanks are due to those who came along to watch.
20th July
Latest League table Division 4:
17th July
Another very close score, this time at home against top-of-the-table Riverain, was a disappointment to the B Team whose run of league victories was brought to an end by  formidable opponents.
Leads, Keith and John, both delivered some excellent openers and Joe maintained his excellent form too. Sadly it was not quite enough and the final score of 29-31 was probably a fair reflection of the game.
As ever, the Team is appreciative of the support provided by the faithful and the tea, prepared by Joe and Elaine.
6th July
Oh so close!! A very tightly fought game saw the GB B team lose by a whisker, 37-39, to Shefford A in the knock out competition.
Sterling work by Bob, Joe and Keith was not sufficient to overcome an unexpected loss by Stuart, Des and John who, after leading quite convincingly 18-10, suddenly and inexplicably lost several successive ends resulting in a 19-28 defeat.
So…we now look forward to making up for this loss when we play our closest rivals next week…..Gt Barford A team.
4th July
A very good competitive game at home to St Andrews B was compelling to play and to watch.
On rink 5 David, Joe and Stuart took an early lead but then lost two successive ends, three points a time. This proved very difficult to reverse. Despite winning some valuable points a further loss of three was really the beginning of the end on this rink and our boys were defeated 11-18. Meanwhile on rink 5 a different story was emerging as Steve, Des and Kev secured a victory by winning 10 of the 18 ends resulting in a 21-11 win.
Relief all round at a 32-29 by the B team as that well known cheerleader, Brian Payne, led the chanting and the joyous singing among the home supporters.
27th June
Another great win by the B Team. Henlow C took a fair lead against Kev, Des and Steve but our troops rallied to ensure a very close score. On the other rink Bob, Joe and Keith showed class and tenacity in maintaining an advantage throughout the game.
A 33-25 victory was the just reward for an interesting and entertaining game. Latest league table:

24th June
21st June
A convincing victory by the B specials over Ampthill B on Monday 19th June really got the season underway! With a slight change in the usual combinations both teams secured victory.
Stuart, Des and John were held for sometime but their superior quality finally saw them pull off a good win
On the other rink Steve, Joe and Kev simply annihilated the opposition who were soon demoralised by our home team's early onslaught.
Cheered on by a vast crowd, A team members, supporters and groupies, our boys scored an emphatic 44-22 victory before retiring to enjoy a fine tea prepared by Jac.
15th June
St Andrews were unable to raise a team for the Knock Out Cup game and so Great Barford B progressed to Round 3 of the Competition and have a home game against Shefford A. This match is due to be played before the 16th July.
1st June
Following our glorious victory over Biggleswade B earlier yesterday evening our forthcoming encounter on the 12th June will be at HOME and not as previously indicated. This will be against St Andrews C and our team will  be at full strength. Anne and I (but mostly Anne, I hope!!) will do the catering! If anyone else can get to the club as supporters that would be great too.
East Beds League Division 4:

31st May
B team progress in East Beds League Knock out Cup.
Following our glorious victory over Biggleswade B earlier yesterday evening our forthcoming encounter on the 12th June will be at HOME and not as previously indicated. This will be against St Andrews C and our team will  be the one that is listed on your sheet. Anne and I (but mostly Anne, I hope!!) will do the catering! If anyone else can get to the club as supports that would be great too.
15th May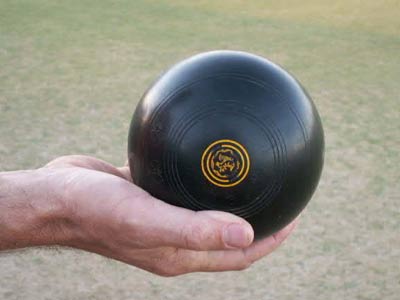 It was a sobering experience for the B Team when they visited Riverain on Monday this week. Both rinks began very well, Steve, John and Stuart taking an early 5-2 lead while Keith, Fred and David performed in similar fashion with a 7-4 advantage. A very friendly but competitive game ensued but high scoring ends by the opposition on both rinks made it very difficult for us to claw our way back and we were well beaten, 13 -24 and 13-27, an overall result of 26 – 51.
Still, it is early days and we are playing two divisions higher than we were a couple of seasons ago.  We tend to have 'slow' starts anyway so better results are anticipated in the games ahead and we are already looking forward to the game next week!.
8th May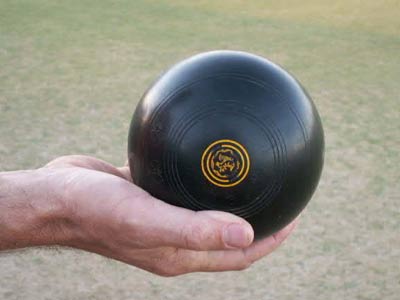 A brilliant evening enjoyed by everyone as our A Team narrowly defeated our B Team 29-26 in a thrilling EBL opening game. The two games were neck and neck throughout until a 5 point win on the 17th end swayed the result in the A Team's favour.