Pre Season Work …. Volunteers Please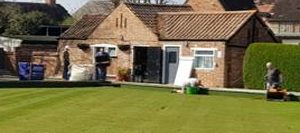 Hello again from Captain Keith – a couple of suggestions on how you can use April to prepare for the 2019 Bowls Season which starts in earnest next month:
· Tuesday mornings (starting today, then 16th April and 23rd April) 9:30 to noon and Saturday mornings (13th and 20th) 9:30 to noon. The green is looking in good shape but there's plenty to do to get it ready to play on: if you don't fancy that there's always coffee to make (see picture below taken 30th March– if you look carefully you can spot Des on the roof). And all being well we should be open for a roll-up on Tuesday 30th.