Over 60s League Games 2017
Saturday 9th September
Hi Everyone,
Here is our last league table for this season. We missed out on promotion by 1/2 point, a bit disappointing but still a massive improvement from the last couple of years where we were fighting to stay up, so well done to you all.
I would like to say a special thank you to Fred for doing all our teas for our home games, also thanks to Mike Pryce and Pete Roberts, for turning up early for most home games to put the rinks out, and last but not least, our team groupie Bernie Scofield, we all really appreciated his support.
Take care and once again well done.
Jennie
Tuesday 5th September
Wednesday 30th August
Wednesday 23rd August
Saturday 19th August
As promised (thanks Jennie) the latest Millicent Childs League table for Division 2:
Need to win all remaining games convincingly to have a chance of promotion so Come on you Over 60s!!
Friday 18th August
Last week's game was called off because of torrential rain but Great Barford Over 60s returned to action with a disappointing game against Royal Oak, which was a green to master and we couldn't resulting in a 0-7 loss. So we move on haha.
Two rearranged fixtures:
Tuesday 5th September against Huntingdon A at home
Wednesday 6th September away against St Neots
After these games another season is over for the Over 60s. Latest league table will be added as soon as it is available.
Wednesday 2nd August
Wednesday 19th July
Back on the winning way for the Over 60s team:
The rearranged fixture away against St Neots A will be held on Wednesday 6th September.
Wednesday 12th July
Another defeat for the Over 60s
Thursday 6th July
Sorry to have to say yet another defeat against Potton, we lost 2-5.
Sunday 2nd July
Latest league table:
Result of the game against Eynesbury A on the21st June was a defeat by 3-4.
Thursday 29th June
A great win today 7-0 against Chatteris, despite the rain. Tough game and very wet, hey ho a wins a win. Latest League table will be displayed as soon as it is available.
Next game Wednesday 5th July will be away at Potton A.
Wednesday 14th June
Great Barford Over 60s won their game against Royal Oak 4-3. Two rink wins for Great Barford in close games, whilst Royal Oak won with a massive margin on the third rink.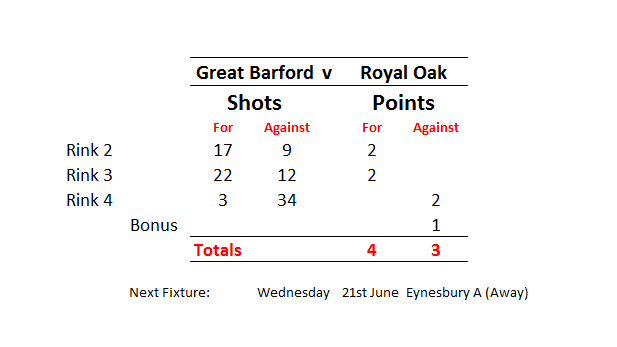 Saturday 10th June
Latest Millicent Childs League Table:

Thursday 8th June
Just a brief review of the last two games which Great Barford Over 60s won. We had a 5-2 victory against St. Ives Red, a double over the St Ives teams in a fortnight.
Another good win yesterday against Huntingdon 5-2, although the wind was very strong I'm sure it blew in our favour.
Saturday 27th May
Latest League table:

Wednesday 24th May
Today's home game against St Ives Green team started very cagily with each end closely contested. As seen in the final result this continued, two of the rinks ending level. The deciding rink went the way of Great Barford by 20 shots. Today's team was Mike Price, Ray Sabey, Jennie Oyston, Dave Samme, Steve Lyon, Bill Quince, Paul Warren, Pete Roberts and Malcolm Lilley.
  Shots                         Points
                             For     Against         For   Against

Rink 3                        16       16             1       1            
Rink 4                        11       11             1       1
Rink 5                        27        7             2       0
Bonus                                                 1

                       Total  54       34             5       2

Next fixture is on Wednesday 31st May away against St Ives Red.
Wednesday 17th May
Today's fixture was postponed till later in the season due to the torrential rain.
Wednesday 10th May
First away game of the season at Eynesbury B resulted in a defeat by 2-5. Team played better than the scores suggests and deserved something from the match but the score is the score. Players that were due to play in the match were Robin Chandler, Malcolm Lilley, Fred Merrill, Steve Lyon, Jennie Oyston, Mike Price, Ray Sabey and Paul Warren. The next fixture is another away fixture at St Neots A.
Wednesday 3rd May
A great start to the season by the Over 60s side in their first game at home to Potton A resulted in a 7-0 victory. Today's team was Jennie Oyston,  Helen Endacott, John Griffiths, Malcolm Lilley, Mike Pryce, Ray Sabey, Paul Warren, Joe Lound-Keast and John Wrycroft
Results:
                                        Shots                       Points
                                  For          Against          For   Against

Rink 3                            21             12               2
Rink 4                            26             12               2
Rink 5                            17              9               2
Bonus                                                             1

                          Total:  64             33               7

Next fixture is away to Eynebury B on Wednesday 10th May.